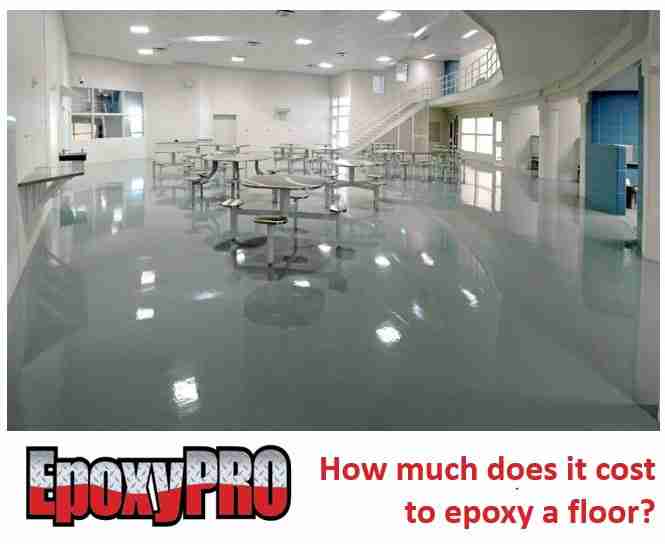 [toc]
Epoxy flooring is a 2 part epoxy paint coating system that combines two parts of A. resin to 1 part of B. hardener forming a high build durable chemical and scratch-resistant high gloss protective coating. The estimated epoxy floor system cost ranges between $4.00 – $5.00 per square foot, including materials and labor.
Don't let your remodeling budget go overboard with hidden surprises, and understand the average installation cost before getting started.
Like in garages, kitchens, and basements, most concrete flooring receives a high volume of foot traffic and heavy wear and tear. Installing a "One and Done" seamless nonporous epoxy floor system is an excellent way to protect, maintain and beautify your concrete floor substrate and limit any long-term damage of contamination and staining.
How much does epoxy flooring cost per square foot?
When you consider your ROI (return on investment) and all the many benefits of epoxy flooring, the cost savings are substantial compared to traditional flooring applications such as tile, carpet, or wood which have to be replaced every 7 to 10 years. While labor and material projects can come with a hefty price tag, the cost-per-square-foot is comparable to other flooring systems.
However, if you're a "Do it Yourself" and are looking for whopping savings and really want to streamline your budget, EpoxyPro DIY 100% Pure Epoxy solids are roughly estimated at 0.79 cents per square foot for the material.
How much does epoxy cost by gallon?
Industrial Grade 2-part epoxy floor coatings are 2-to-1 mix ratios, come in various color options, and are packaged in 3 – gallon DIY kits. However, keep in mind that depending on the porosity and condition of the concrete floor surface, you may need to purchase additional epoxy kits to get the coverage you need to complete your floor project. Good-condition concrete floor substrates that are not so porous will average 100 to 120 square feet per gallon at 10 mils thick D.F.T. (Dry Film Thickness) whereas concrete floors that are porous or spalling will average coverage of 50 to 60 square feet per gallon at 10 mils D.F.T.
The cost of flooring epoxy by the gallon is estimated at $100-$110 per square foot. Therefore, a 3-gallon epoxy kit would cost $315.00 for 3 gallons.
How much does it cost to epoxy a two-car garage?
If you're tired of your dull concrete garage flooring, you may be interested in long-lasting epoxy flooring. Epoxy is a rugged and durable finish resistant to oil, chemicals, and grease.
Several factors impact epoxy garage flooring costs. Prices can differ according to garage size, labor costs, application methods, and materials. Essentially, it all depends on your garage's square footage.
To hire a contractor to install your 400-square-foot two-car garage the average cost at $4.00
per square foot = $1,600.00
For DIY, an average two-car garage is 20ft by 20 ft equals 400 square feet. Therefore, the estimated cost for an average two-car garage epoxy is roughly $ 315.00.
How much does it cost to epoxy a one-car garage?
Flooring, in general, comes with quite a price tag. It's an investment even if you're planning to do it yourself instead of hiring a professional. However, when it comes to resurfacing and refinishing your concrete garage floor, the square footage of the surface will determine whether or not it's an affordable option. For instance, an average one-car garage is 10ft by 20ft, which equals approximately 200 square feet. Therefore, the estimated cost for a one-car garage is roughly $ 158.00 in materials alone!